We will help you find
the quickest and most reliable solution

for your IT infrastructure

Here at iDISC we are experts at pitching and implementing network virtualization, systems, hosting and database solutions. We plan and deliver custom-developed proposals to meet customer requirements for maximum performance, security and resource efficiency.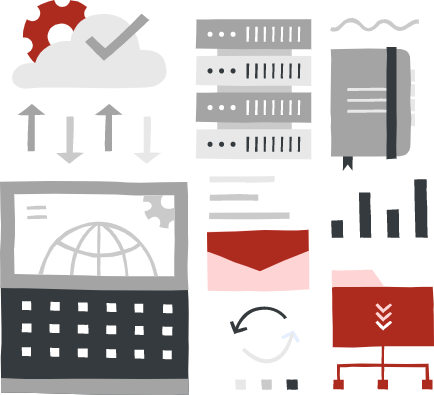 Whatever you need, whenever you need it. Always tailor-made
We will provide you with advice on how to have a high-availability (HA) system
Data are one of the major assets of any company. Here at iDISC, we help to keep data always available for quick and easy access whether on premise or on the cloud
More about HA systems
We will help virtualize your daily operations
Virtualizing operations means added efficiency. Here at iDISC, we will help you by using programs like VMware or Hyper-V, which can easily and securely virtualize your hardware.
More about virtualization
We will secure your networks in the face of a wide variety of threats
Here at iDISC, we combine our system and cybersecurity expertise to develop efficient and agile operations that also minimize risks and ensure your information is secure.
More about security
We work to adapt to you. Now and forever
We will size systems based on your needs
Enhancing IT infrastructure always starts with understanding customer requirements and sizing their systems. Here at iDISC, we provide custom-built solutions for every project.
I want more information
We will provide you with advice on what to change for continuous improvement
In a changing environment like data protection, keeping our systems up to date and able to be scaled and adjusted to new scenarios and new requirements is key. Here at iDISC, we will help keep your IT infrastructure up-to-date at all times.
I want advice
We will monitor your system to make the best use of resources
Monitoring systems is essential in order to check they are running properly, and this also provides indicators that help in anticipating both operational and security decision-making.
I want monitoring
Why choose iDISC?
Because we have helped hundreds of companies expand internationally, conquer new markets, and attract new clients since we started in 1987.
Because we are committed to our work, always ready to listen and used to taking on new challenges.
Because we adapt with you to the changing context in which your business operates. We engage in your marketing activities and your company's strategy to offer you a winning plan.
Because your future also defines ours.
Do you want to know what we can do for your business?
Get in touch with our team of advisors
Availability
We are ready to handle your requests, respond quickly to urgent deadlines and react to unforeseen events with agile solutions.
Our coordinated centers in several countries offer you a personalized service during extended hours, no matter where you are.
You can count on us. We are with you every step of the way: before, during and even after the project.
Flexibility
We dynamically restructure and resize our teams to respond to changes as projects evolve.
Our technological tools allow us to model the processes so that they can be integrated into your company's workflows as efficiently as possible.
We tailor our services to your activity, your preferences and your budget.
We work to adapt to you and your needs.
Reliability
iDISC is certified with the standards ISO 9001, ISO 17100, ISO 18587 and ISO 27001, which certify the selection of the most suitable professionals, the quality of the processes and the security of information.
Our expertise is backed by our strategic alliances with leading technology partners, driving us to continually innovate to keep up to date with the latest developments in our industry.
Over 35 years of experience managing thousands of projects, our commitment to continuous improvement and our honesty have made iDISC a trusted partner for hundreds of clients.
You might also like
Web development
Experts at providing the best solution for your project
Custom programming
WordPress programming
HubSpot programming
More about web development
Cybersecurity
Peace of mind in the face of potential threats
Consulting and advisory services
Information security
Preventive maintenance
More about cybersecurity