E-mail
protection

with

Barracuda
Are you ready to take your email security to the highest level?
Protect your data, your customers' data and your employees' data.
Would you like to take a free trial?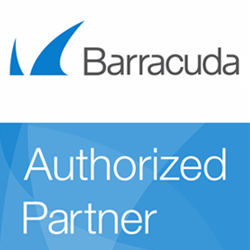 It is a fast, free and secure process that does not affect the performance of your mail sending and receiving process. By performing a scan, you can uncover a variety of threats, from phishing to identity theft to scams and phishing. At the end, you will get a detailed report that will give you a clear view of your company's email risk profile.
Secure mail

with Barracuda

Email has become the main gateway for cyber-attacks on companies.

Threats are constantly changing and it is vital that your email protection evolves so as not to fall behind. Boost your data security with comprehensive, multi-layered email protection.

Barracuda Email Gateway Defense combines advanced filtering, artificial intelligence and constant updating against emerging threats to deliver unparalleled protection to your inbox. In addition, with encryption and data loss prevention features, your e-mails will be shielded both in transit and at rest. Thanks to the wide range of functionalities of this advanced technology, we can customize solutions to any digital project.
Barracuda Email Gateway Defense
Barracuda Email Gateway Defense offers a cloud-based email security solution, providing multi-layered defense against emerging threats. Adapted for platforms such as Microsoft 365, Exchange and G Suite, this system not only secures your communications, but also ensures regulatory compliance through cloud archiving.
With an intuitive deployment, Barracuda automatically adjusts to your organization's needs, complementing its offering with backup tools and AI-powered threat analysis.
Email Threat Scanner
Most organizations using Microsoft 365 may not realize it, but a staggering 98% of them have malicious emails in their inboxes.
Thanks to artificial intelligence and integration with Microsoft 365, Barracuda Email Threat Scanner can effectively detect social engineering attacks that might already be in your inbox messages.
Phishing and phishing protection
It is essential to have a defense that goes beyond email, especially against sophisticated attacks such as phishing and business email compromise (BEC).
Barracuda offers a solution that uses artificial intelligence (AI) to learn a company's communication patterns, thus identifying anomalies and attacks in real time. This protection, fully integrated with Microsoft 365 via APIs, not only ensures security without impacting mail performance, but also provides exportable reports to keep customers informed about blocked threats.
With this tool, email security is strengthened, taking a step forward in protecting users against advanced threats and demonstrating added value in cybersecurity.
Automated threat detection and incident response
It is vital to act quickly in the face of email threats. Barracuda Incident Response - MSP provides an automatic response to these incidents, identifying and removing malicious emails directly from users' mailboxes, thus minimizing potential damage.
This tool allows tracking of emails related to known incidents, and through its integration with Outlook, users can report threats with a single click.
In addition, emails can be identified based on geographical reports and malicious domains can be blocked in real time. This proactive and automated response ensures a more secure and reliable mail environment.
Proven experience in email protection
At iDISC we are cybersecurity specialists with proven experience in email protection and in the management of messaging solutions of any kind. Thanks to our long experience, we are familiar with a wide variety of scenarios, products and devices that allow us to adapt to any type of project.
Major companies already benefit from our cybersecurity protection and consulting services.
don't miss the opportunity to protect yourself against cyber-attacks!
Microsoft 365 + Barracuda
The ultimate integration for the protection of your company.
Integration with Microsoft 365 with Barracuda Gateway Defense provides organizations with a robust and comprehensive solution to ensure the integrity and security of their email communication:
Enhanced Protection
While Microsoft 365 has its own security tools, Barracuda Gateway Defense adds an additional layer of protection against advanced threats such as phishing, malware, spear phishing and other forms of targeted attacks.
Seamless Integration
Integration is seamless, allowing organizations to take advantage of Barracuda's features without altering their existing Microsoft 365 configuration.
Real Time Detection
With the integration, threats are detected and blocked in real time, ensuring that malicious emails do not reach users' inboxes.
Archiving and Compliance
Barracuda facilitates email archiving and ensures compliance, integrating seamlessly with Microsoft 365 tools.
Automatic Incident Response
In the event of a detected threat, Barracuda can take automatic measures, such as deleting emails, thus limiting the impact of the attack.
Advanced Analysis
Barracuda's solution provides detailed analysis and reporting on detected threats, enabling organizations to better understand the threat landscape and make informed decisions.
Ease of Use
The integration provides an intuitive interface that makes it easy to manage and monitor email security without requiring advanced technical knowledge.
Cost Reduction
By combining the security features of Microsoft 365 with Barracuda's advanced capabilities, organizations can avoid additional costs associated with security incident management and recovery.
Do you want to identify the risks in your inbox?
Try the threat scanner for free!
It is a fast, free and secure process that does not affect the performance of your mail sending and receiving process. By performing a scan, you can uncover a variety of threats, from phishing to identity theft to scams and phishing. At the end, you will get a detailed report that will give you a clear view of your customers' cyber risk profile.
Contact us to scan your email and find hidden threats.
Why choose iDISC?
Because we have helped hundreds of companies expand internationally, conquer new markets, and attract new clients since we started in 1987.
Because we are committed to our work, always ready to listen and used to taking on new challenges.
Because we adapt with you to the changing context in which your business operates. We engage in your marketing activities and your company's strategy to offer you a winning plan.
Because your future also defines ours.
Do you want to know what we can do for your business?
Get in touch with our team of advisors
Availability
We are ready to handle your requests, respond quickly to urgent deadlines and react to unforeseen events with agile solutions.
Our coordinated centers in several countries offer you a personalized service during extended hours, no matter where you are.
You can count on us. We are with you every step of the way: before, during and even after the project.
Flexibility
We dynamically restructure and resize our teams to respond to changes as projects evolve.
Our technological tools allow us to model the processes so that they can be integrated into your company's workflows as efficiently as possible.
We tailor our services to your activity, your preferences and your budget.
We work to adapt to you and your needs.
Reliability
iDISC is certified with the standards ISO 9001, ISO 17100, ISO 18587 and ISO 27001, which certify the selection of the most suitable professionals, the quality of the processes and the security of information.
Our expertise is backed by our strategic alliances with leading technology partners, driving us to continually innovate to keep up to date with the latest developments in our industry.
Over 35 years of experience managing thousands of projects, our commitment to continuous improvement and our honesty have made iDISC a trusted partner for hundreds of clients.
You might also like
Web development
Experts at providing the best solution for your project
Custom programming
WordPress programming
HubSpot programming
More about web development
Systems engineering
Enhancing, deploying and monitoring your networks
Virtualizing
Public, private or hybrid cloud
Storage
More about systems engineering