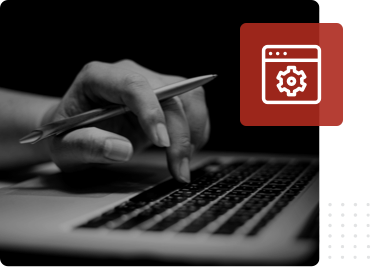 Machine

translation
Optimization, streamlining and increased output
Machine translation is a tool we can use to generate internal, low visibility and non-critical translations. Using this tool makes translation easier and quicker. Having most of the work done beforehand means language professionals can focus on improving sentences and complex terms, enhancing the quality and reliability of the final product while boosting productivity.
Benefits of machine translation
Translations are not the same across industries. Each one features its own specific terminology and the same term can have a different meaning depending on context. Machine translations make translation quicker. That said, on their own, they are unable to resolve certain issues properly and are not as accurate as we would like. This is why at iDISC we use specialized translation engines that employ industry-specific glossaries which, despite not replacing the language professional who will proofread the translation, significantly lighten the workload as they offer a more reliable translation for quicker turnaround.
Machine translation options
Basic translation
During machine translation online translators and terms previously stored in databases are used, which speeds up the translation team's work when proofreading and translating the final texts. This tool is not recommended for direct posting, however it is useful for the proofreading and final translation team to deliver a reliable and high-quality product.
Specialized translation
We use a private translation engine with in-house glossaries and corpora. It generates high-quality translations using sentences and terms linked to your company's industry. In addition, it ensures your information is secure, so you do not need to worry about content leaking.
Post-editing
After using machine translation, language professionals post-edit to correct potential errors and polish the final product. Post-editing can be as strict as the customer requires it to be. This may vary depending on the content, its visibility and its end user. Customers can opt for a basic or light post-edition service, or upgrade to a complete or advanced post-edition service. Machine translation helps boost productivity and optimize costs across the board.
Types of postediting
Basic post-edition
During a basic post-edition, the translation system will focus on the basic essentials of any translation, such as its meaning and basic grammar.
Advanced post-edition
During an advanced post-edition, the machine translation will consider all the basics of grammar and definitions, plus it will make changes to the text by employing glossaries and terminology for a fluid and idiomatic end product.