Professional translation

services
We can help you connect with any culture.
One of the challenges faced by companies when increasing international sales is communicating with different markets while making their message local in each language. Thanks to our specialized translations by certified native language professionals, your products, services and content will speak the language of your buyers and attract more sales.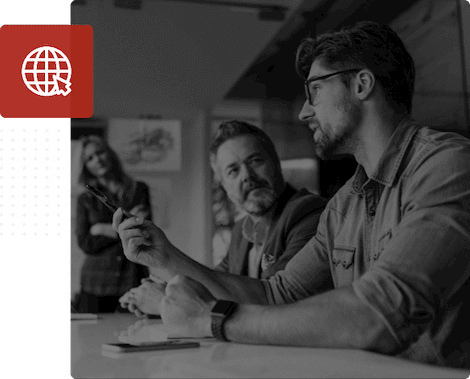 Our methodology
Selecting language professionals
We assign the right translators, prepare reference materials, choose the right tools and set the turnaround time.
Translating
Our ISO 17100-certified translators follow established procedures and work with the assistance of the latest technology to ensure linguistic accuracy, consistent terminology and file integrity no matter the format.
Quality assurance
A second expert language professional proofreads the translation and, if you request any changes following delivery, we will implement them for a perfect translation.
Translation quality
Reliability
The translated text will have the same meaning and reflect the original text's purpose. Your brand will stay authentic and keep its style in the target language.
Delivered on time
The flexibility of our teams, coupled with the assistance of the latest technology, help streamline our operations so we can fit your workflows and your turnaround times.
Learn more about translation
T
ranslation is not just transferring a text from one language to another, it is about tailoring it as much as possible so it sounds fluent, true and idiomatic in the target language and context.
Each area of specialization has specific terminology in each country, which is why we work with native translators and proofreaders with experience in each area

for consistent branding. Our network of language professionals also employs the latest translation tools featuring built-in
translation memories, access to dictionaries, customized glossaries, and AI-based help functions and machine
translation whenever they may be implemented.